Why is a crash cart important?
Posted: 2021-10-26 14:51
A crucial component of the medical sector is the medical crash cart. The crash cart enables medical personnel to react rapidly to codes. It is more than a drug cart since it includes everything required in a life-saving emergency about medicine and equipment.
Overall Importance of Crash Carts
In an industry that frequently has to be quick for optimum outcomes, the development of the crash cart is a decisive step towards increasing the efficiency of emergency response. All the materials needed on a simple to carry cart may save a patient's life. The material for the cart, cart proportions for this device and the arrangement of materials, thanks to the lens of human factors and ergonomics, contribute to the cart's successful purpose.
What are the contents?
Crash cart contents are not unexpectedly packed with the necessary to save and protect life. Contents may change based on the facility in which they are utilised. However, in every crash cart, you will discover a range of life-saving items. Let's look at what you might discover in a crash cart:
The top of the cart:
At the top of your cart is a defibrillator and the electrode pads ready for emergency usage. Not all carts keep the electrode and defibrillator pads on the top of the cart. This life-saving equipment is ready to be utilised and within reach.
The top drawer:
The top drawer: Adult medicinal products may be located in the top drawer. If pediatric medicinal products are stored in an adult crash cart, they would be placed in a separate drawer to prevent confusion. You may discover that medicines needed for heart arrest are stored in the drawer for convenient access and that other medications are arranged in rows quickness and simplicity.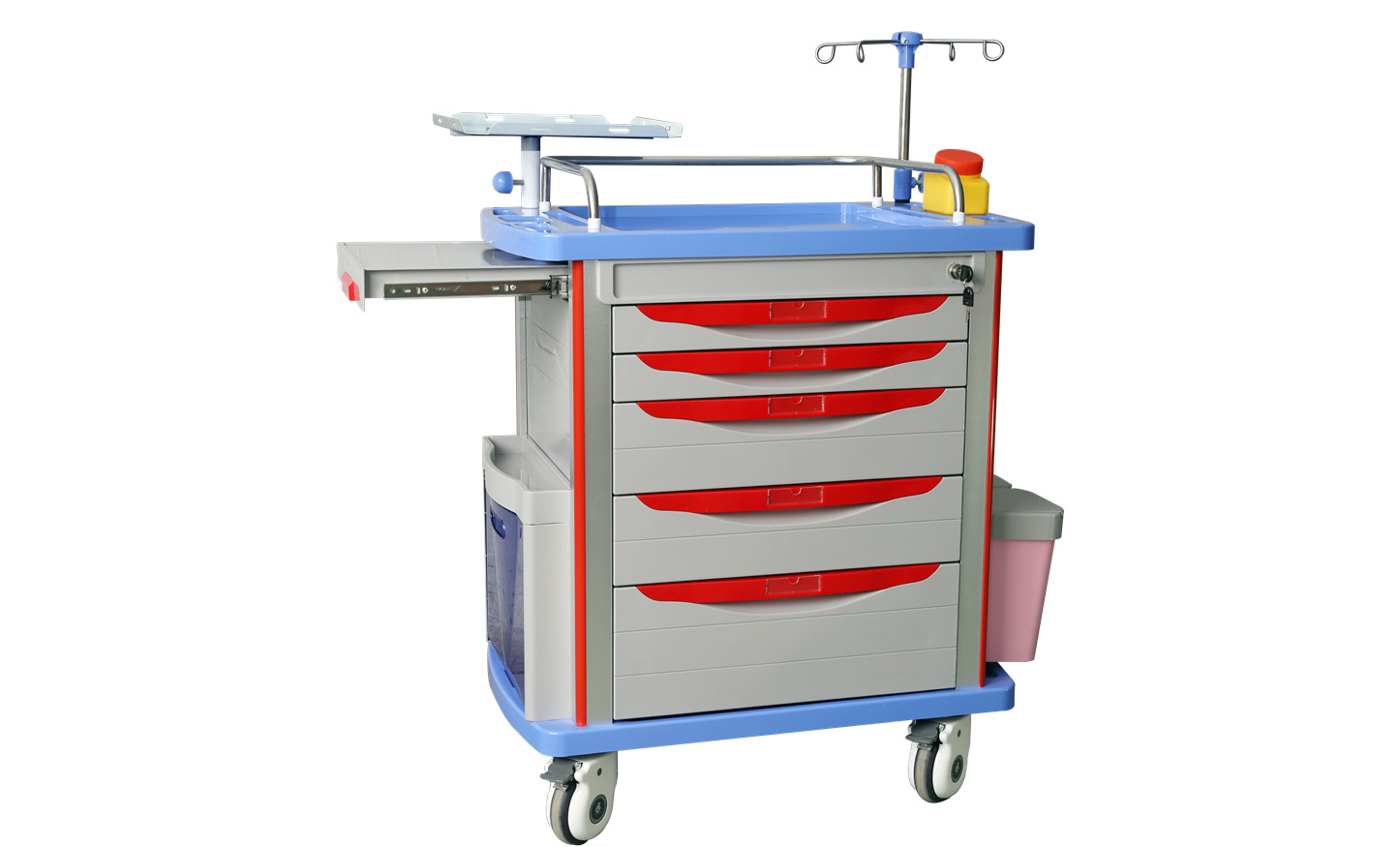 The next drawer down:
Under the medicines, the respiratory equipment needed to establish and sustain breathing and save a life is likely to be found. Again, it is likely that adult and pediatric equipment are kept separately. You will probably find the following breathing devices on a standard crash cart:
– Tracheostomy pipes
- Flow meters of oxygen
– Supplies of laryngoscopes
In additional drawers
Many crash carts include procedural kits (often in the lower drawer), which may be utilized if a specific emergency code is declared. These kits are packed with devices and equipment associated with a particular operation. You will also discover storage for additional equipment needed to support particular operations such as gazes and IV starting kits, springs, IV solutions and tubes, test gloves and alcohol swabs.
Additional features
Further features may also be connected to the side or top of the crash carts, including oxygen tank brackets for quick bins and baskets, IV poles and other brackets.
Final Thought
The proper kind of crash cart is crucial for your institution. It is necessary to select with decades of crash carts expertise.