What are the features of the spine board?
Posted: 2022-08-25 15:56
The spine board is also called the long spinal plate. The X-ray film needs to be able to penetrate the spine board. The X-ray film is also able to penetrate the board, so that the patient's spinal injury can be assessed without removing the patient from the board. To accommodate these specifications, the spine board is usually made of plastic or wood.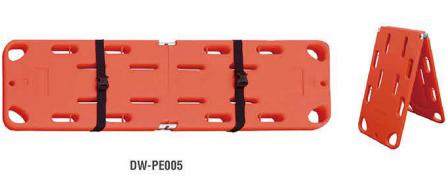 Functional features:
1. Spine Boards are used to immobilise spinal injuries and ensure the safety of patients from the scene of an accident to hospital transport.
2. 100% radiographic penetration, so that the patient does not need to be moved during X-rays, CT scans and MRI scans, and there is no shadowing of the plate to affect image clarity.
Lightweight, weighing only 6kg and measuring approximately 184*45*6cm, it is durable and can withstand 250kg of weight, eliminating unnecessary weight for the rescuer.
3. well designed, with enough space between the handle and the ground for smooth grip and lifting.
The pine Boards can be used in conjunction with any other head restraint device.
4.The Spine Board floats on the surface of the water, allowing the patient to be kept afloat and also used as a surface lifesaver.
5.The spine plate is mainly used in hospitals, sports, ambulances and outdoor transportation of patients and wounded.