Is there a wheelchair climbing stair?
Posted: 2021-08-24 13:11
You may know well about the wheelchair; it helps us transport the sick, disabled, and older people from one place to another place with ease and safety. Wheelchairs have wheels to move on the flour or roads. But you may not know that modern wheelchairs could be the best alternative for mobile stairlifts. You may do not see it before. No worry, we have found two best wheelchair climbing stairs that are perfect for you to choose from.
The first climbing stair wheelchair is DW-SW02 new style electric stair wheelchair climber. It is one of the best and affordable wheelchair stair climbers. We recommend you as the best alternative for mobile stairlifts.
· This modern electric stair wheelchair climber comes with versatile but unique features that make it the best one to choose.
· Its weight is only 47 kg that is simple to operate.
· This electric power-compatible wheelchair is supported by a 24V powerful battery that helps you climb high stairs.
· It is compatible to use for different sizes and heights people.
· Its modern walking controller button can control by hand. Users can move it forth back, right, and left with simple hand operation.
· You will find the upper control handle to make it an ergonomic choice to get a good position for a balanced posture.
· Its motor stair treads system helps the user to transport people up and down the stairs.
· Manufactured by a well-known firm Dragon.IEC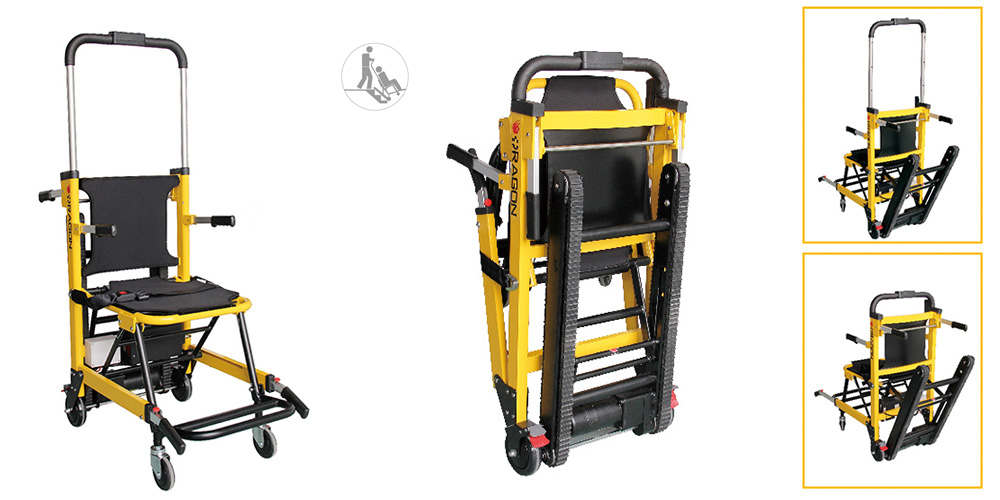 Powered Folding Wheelchair Stair Climber for Elderly
Another folding wheelchair stair climber is perfect for the elders to move up and down the stairs. We also pick that excellent wheelchair for elders from the collection of Dragon.IEC because the company produced high-quality aiding equipment. This wheelchair offers unique features that make it suitable for older people to move anywhere.
· It comes with a rechargeable battery that charge quickly
· The wheelchair stair climber is suitable to use for indoor and outdoor stairs without any problem.
· Its grip is more comprehensive and double that makes your control better
· Its operation is effortless, and friendly new users can efficiently operate
· The wheelchair comes with comfortable and best quality cushioned seats and arms
· For better position, can adjust headset, armrest, and other parts
Summary
Modern wheelchairs come with unique features that make them a perfect and less expensive alternative for mobile stairlifts. We have also provided you two best unique features offering wheelchair stair climbers that are affordable, durable, comfortable, and trusted.