How to use spine board?
Posted: 2022-08-22 14:29
Spinal boards are primarily used to judiciously transport people who may have a spinal injury,usually due to the mechanism of the injury,which the attending team cannot rule out.They are most commonly used by ambulance crews,lifeguards and ski patrollers.Long spine boards are commonly used patient mobility devices in EMS.In most cases,the patient will be immobilized on a long spine plate for spinal immobilization to prevent further spinal cord injury and if there is a suspected spinal cord injury.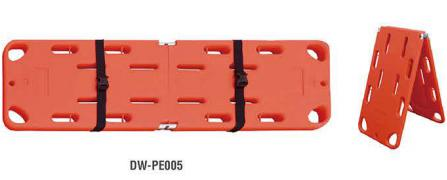 The Long Spinal Plate can also be used anytime the patient needs to be rescued from an area and needs to be transported by an EMS professional (i.e. a vehicular accident where a comatose patient needs to be carried downstairs, eventually out of the way where the patient needs to be lifted) back to waiting stretcher,etc.).
Spinal trauma can directly lead to paraplegia.Therefore,when dealing with spinal trauma,you must be extremely careful,and you cannot move the wounded casually.Especially when dealing with fragile cervical spine injuries,you should first fix the head and neck of the wounded with bare hands,and then deal with the injury. Check,and finally use equipment to brake, including the head and neck,trunk and limbs of the injured,so that the transport can be carried out safely.
How to operate:The operator should be at the head of the casualty and fix his elbows first(on the thigh or on the ground).With both hands on both sides of the casualty's neck,thumbs and four fingers separated,palms facing upwards, fingers pointing towards the feet,lock the casualty's shoulders,and place the two forearms above the ears against the casualty's head to fix it.