How to choose a stair-climbing wheelchair for a disabled person
Posted: 2021-09-13 09:40
The escalator wheelchairs come in a range of designs and types. Each model is intended for certain needs. Some are bigger than others, may provide greater movement, and some are more compact in form so that your loved one who is disabled does not have to worry about the carriage.
A stair wheelchair is intended for simple installation and usage. If these are not in use, these chairs are simple to fold and store. Many versions are extremely cheap if you are worried about costs.
Like public places, private businesses and homes must also make accessible to individuals who are not capable and may be restricted to a wheelchair. One of the most difficult jobs for wheelchair users is to go up and down the steps, whether at home or abroad.
When no lift is available in smaller businesses and residences, the ideal option may be a step-lift or stair-lift. However, it may be a difficult job to choose the appropriate equipment.
There are many kinds of climbers with hundreds of characteristics. This is a guide to choose the one that works best in your situation:
Check the types of stair climber
Although various brands and models are available, we must consider two main kinds of stairs for persons with disabilities.
The first kind has a built-in seat
The alternative comes with a wheelchair adapter. The built-in climbers fit elderly unstable individuals on stairs and disabled people who can transfer from one seat to the next. The thin and compact form may fit into narrow staircases and tiny places. We may readily remove it for travel.
The wheelchair climber is best suited for individuals with wheelchair connections who find it hard to go from one seat to another.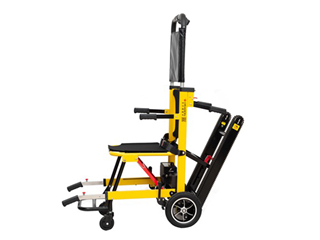 Measure the size of your stairs
Before you purchase an older person's stair wheelchair, you should examine the size of the steps in your house. The climber you select must fit on the steps correctly, particularly if you have a small, limited area.
Check the characteristics of the climber
You should take into consideration the essential characteristics of the escalator while selecting one. Check, for example, the braking system the climber uses.
Check your home environment
When you purchase a stair climber for an older person, you need to consider your whole home environment. For example, you must consider the width of doors and the flight of steps inside and outside.
Consider Stair climbing Wheelchair price
The final but most significant factor is the pricing of the staircase. Although you may discover many different kinds of escalators, they do not all suit your budget. The cost usually depends on various variables, such as battery quality, warranty, parts, and shipping costs. Stair wheelchair costs start from $US1k to $US45k to reserve.
Final thoughts
If you buy an escalator for persons with disabilities, you may provide your loved one a safe and secure route up and down the steps. It also facilitates living for everyone without house upgrades. However, you have to select the correct escalator to maximize the advantage.