How many types of tourniquets are there?
Posted: 2022-12-05 16:33
Tourniquet is a widely used basic first aid product. There are many different materials and styles, but also applied to different working principles.
1. TPE tourniquet. TPE is an emerging environmentally friendly material with excellent elasticity, which is popular these years,. Because of the low production cost and the characteristic of recyclable, TPE tourniquet is widely used in hospitals, first aid, home use and other fields. Conventional is blue or orange.
2. Buckle tourniquet. This kind of tourniquet is composed of ABS plastic buckle and polyester belt. Different from traditional tourniquet, it is fixed directly by the plastic buckle, not easy to loosen, so it is more solid to use. Regular size is 2.5*40cm. Buckle tourniquets could be sterilized and reused.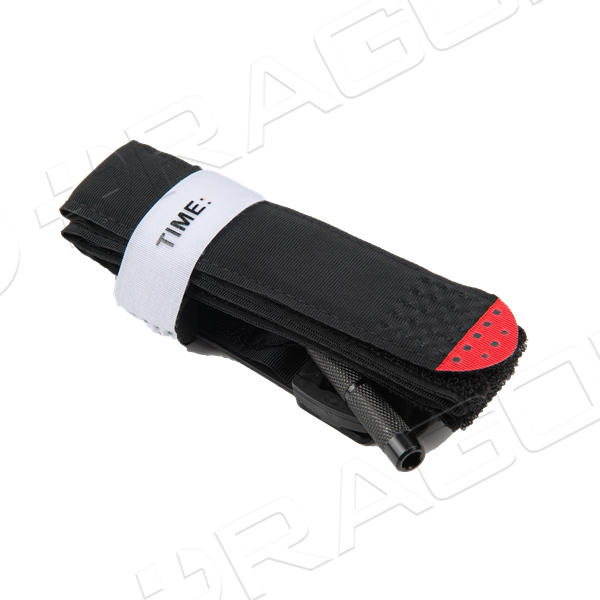 3. Nylon tourniquet. This is a very popular style recently. The operating principle is to tighten the belt, by rotating and fixing the rod to apply pressure to the wound so as to physically accelerate the hemostasis. This is also the most widely used in the military first aid field of a tourniquet. The conventional nylon tourniquet is composed of nylon belt and nylon rod, mostly black in color. This nylon tourniquet could be operated by one person with single hand, which is very convenient and has a good effect of stopping bleeding quickly.
At the same time, the white part on the tourniquet belt could record the time of use to facilitate follow-up treatment. The conventional size of this tourniquet is 3.8*90~95cm. The net weight is between 70-80g, with better quality reaching 85g.
4. Metal rod nylon tourniquet. This kind of tourniquet is an upgraded version of the conventional nylon tourniquet, replacing the nylon rod with a stronger and less breakable metal rod, with better hemostatic effect.
The above is the introduction of the four most commonly used tourniquets for your reference.